Most of you probably don't know that I had a stint in law enforcement. Police officers and the like are vastly underpaid for the sacrifices they make to take care of our communities and should be lifted up in our society.
One of the poignant things about the corrections industry is the evolution of the housing elements afforded to people that have been incarcerated. I was always impressed that someone came up with a way to make a toilet, sink, toilet paper holder and drain board out of a solid piece of stainless steel. The lovely unit above can be purchased through Bradley Corporation.
Recently Caroma, a very forward thinking company that has always impressed with flushing systems, let out this little gem.
I'm sorry, but what?
In all seriousness, I am all about green-living and innovation, but anything that involves gray water just makes me think it goes in a camper. So my opinion is harsh, it's merely aesthetics. It's a prison toilet that has a real flush and a toilet seat.
The space argument is legit, and some rooms just don't have the available spots for toilets and a lavatory(Overseas, many apartments have exceptionally small loos- so small you must come outside to change your mind). Folks in our neck of the woods have McShowers. Putting the sink on top of the throne would just never fly.
One of the concerns that I have is the "flush effect". Everyone has heard that you should keep toothbrushes and etc. 6 feet away from the toilet as you will end up with little lovelies in your bristles. Will the basin being so close to the flush not create a very not sterile environment?
Caroma isn't the only one... Buratti and Roca Innovation has this toilet out and about.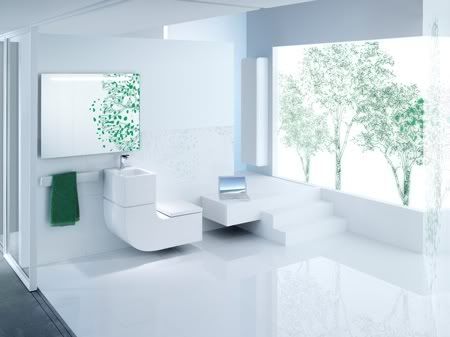 I do like the little platform on the side... Guess you can throw your legs up and relax just like you're in your recliner!
So, what do you think?